16:41
Capitol attack committee subpoenas Trump trade adviser Navarro
16:09
Russia and Belarus will begin 10 days of joint military drills on Thursday, setting in train one of the most overtly threatening elements of the Kremlin's buildup of forces around Ukraine's borders.
Valery Gerasimov, the head of the Russian general staff, arrived in Belarus on Wednesday to oversee the drills.
Russia has moved up to 30,000 troops, two battalions of S-400 surface-to-air missile systems and numerous fighter jets into Belarus for joint training exercises with the Belarusian army. Satellite imagery shows much of the hardware has been moved to locations close to the border with Ukraine.
The Russian president, Vladimir Putin, reportedly told France's Emmanuel Macron this week that the troops would leave Belarus when the exercises ended on 20 February. Even if that does happen, the drills show that Belarusian dictator, Alexander Lukashenko, is a firm ally in Putin's Ukraine policy.
15:22
Archives asks Justice Department to investigate Trump's handling of records – report
14:58
Biden meets with CEOs of electric utilities to discuss economic agenda
14:33
Recent polling suggests voters are increasingly concerned about crime and rate Joe Biden poorly on his handling of it. Increasingly, Republicans and Democrats view the issue as a potential political liability for Biden and his party in November.
The administration has focused its efforts on combating illegal guns and prosecuting violent offenders, while the president has sought to balance support for law enforcement with his promise of police reform.
At her press conference on Wednesday, Val Demings was joined by a handful of moderate Democratic lawmakers and law enforcement officials on Wednesday to urge Congress to pass the Violent Incident Clearance and Technological Investigative Methods, which would establish a grant program to help police departments investigate and solve homicide and violent crime cases.
Demings said it was important to listen to the people in the communities most impacted by crime. The message she said she was hearing from them was: "We don't want to defund the police, we want to fund the police. We don't want to see less police, we want to see more police."
14:17
Democrats clash on messaging over rise in violent crime
Florida congresswoman Val Demings, a Democrat and former Orlando Police Chief who is running for Senate, said the best way to combat a rise in violent crime was to fund, not "defund," the police, distancing herself from an activist call that has divided Democrats and given political grist to Republicans.
"The number one priority has to be the reduction of violent crime," she said at a press conference today, while adding that the country must also "get serious" about addressing the social ills that often exacerbate crime, like mental health, addiction and poverty.
Last week, Joe Biden sent a similar message during a visit to New York, which followed the murder of two NYPD officers and a spate of violent episodes across the city.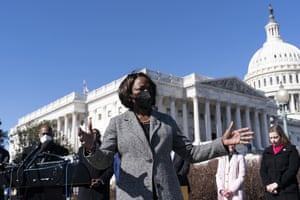 Demings' press conference comes one day after Missouri Congresswoman Cori Bush told Black journalists, according to Axios, that she would not stop calling for cities to "defund the police" by shifting funding for law enforcement toward violence prevention programs and social services.
Many frontline Democrats have blamed the "defund the police" slogan for Democratic losses in 2020, and they believe it will be a liability again in 2022.
On Wednesday, Senate minority leader Mitch McConnell, misleadingly, blamed the rise in violent crime on Democrats' support for the racial justice movement.
13:58
White House press secretary Jen Psaki is currently holding a briefing, and has commented on New York governor Kathy Hochul's decision to lift the state's indoor mask mandate despite federal public health guidance.
Asked about whether the White House is out of step in its messaging compared with the moves that Democratic governors such as Hochul have made this week, Psaki said it was clear that the US is "moving toward a time when Covid won't disrupt our daily lives" and won't be a "constant crisis" any more.
"We recognize people are tired of the pandemic and tired of wearing masks," Psaki said. But she also pointed to comments made earlier today by the director of the Centers for Disease Prevention and Control (CDC), Rochelle Wallensky, who underlined that the agency still recommends wearing masks indoors in areas of high transmission.
The CDC website states: "Everyone ages 2 years and older should properly wear a well-fitting mask indoors in public in areas of substantial or high community transmission, regardless of vaccination status."
Psaki said nonetheless, the CDC also understands the need to be "flexible" and that its guidance was regularly reviewed.
Updated

13:21
Illinois governor JB Pritzker has announced that the state will lift its indoor mask mandate by 28 February, though it will remain in place for schools for now.
The move comes shortly after New York governor Kathy Hochul made a similar announcement, days after other Democratic governors also eased mask requirements in their states.
"All of us are getting tired of wearing masks, that's for sure," Pritzker told reporters on Wednesday morning, the Chicago Tribune reported. "We have done such a good job, you have done such a good job of keeping each other safe."
Though Covid-19 cases have been decreasing in the US in recent weeks, the Centers for Disease Control and Prevention (CDC) continues to recommend wearing masks in areas of "high and substantial transmission".
Pritzker is expected to give a press conference on the matter shortly.
Updated

12:15
Hochul announces New York will allow indoor mask policy to lapse