17:00
Today so far
Updated

16:01
Pence: 'President Trump is wrong. I had no right to overturn the election'
15:08
Biden signs executive order to improve federal construction projects
Updated

14:42
Weeks after the 2020 election, Donald Trump reviewed a draft executive order that authorized the national guard to seize voting machines and verbally agreed to appoint Sidney Powell, a campaign lawyer and conspiracy theorist, as special counsel to investigate election fraud.
The two previously unreported actions of the former president – which is certain to interest the House select committee investigating the Capitol attack and Trump's efforts to overturn his defeat – came during a contentious White House meeting on 18 December 2020.
Trump never followed through with issuing a formal executive order authorizing the seizure of voting machines or appointing a special counsel. But four sources with detailed knowledge of what transpired during the 18 December meeting described to the Guardian how close he came to doing so.
The draft executive order Trump reviewed was one of the final versions Powell had prepared. An early version of the document was published by Politico. Another version, obtained by CNN, empowered the Department of Homeland Security instead of the Department of Defense.
But all versions included language that would have allowed Trump to appoint a special counsel to investigate claims of foreign interference in the 2020 election, which the Department of Justice had already determined were without foundation.
Read the Guardian's full report:
14:24
Records show Trump spoke to Jim Jordan on morning of Capitol insurrection – report
13:44
Republican party calls Jan 6 insurrection 'legitimate political discourse' as it censures Cheney and Kinzinger
In a show of loyalty to former president Donald Trump, Republicans on Friday censured two of its own, US Representatives Liz Cheney and Adam Kinzinger.
The move was a response to their involvement in the House select committee investigating the Capitol insurrection on January 6 last year.
The resolution also referred to the Capitol insurrection, which resulted in the deaths of several people and has already led to hundreds of arrests, as "legitimate political discourse".
The censure of Cheney and Kinzinger passed on a voice vote as 168 members of the RNC gathered for their winter meeting in Salt Lake City, Utah. The yes votes were overwhelming, with a handful of nays, according to reporters at the meeting. The resolution said their actions have damaged Republican efforts to win back majorities in Congress.
Both lawmakers issued statements in anticipation of Friday's vote. "The leaders of the Republican Party have made themselves willing hostages to a man who admits he tried to overturn a presidential election and suggests he would pardon January 6 defendants, some of whom have been charged with seditious conspiracy," Cheney said, referring to the hundreds of Trump supporters accused of various crimes in the violent attack.
Not all Republicans backed the censure. Republican Senator Mitt Romney praised Cheney and Kinzinger as honorable in a Twitter post on Friday. "Shame falls on a party that would censure persons of conscience, who seek truth in the face of vitriol," he wrote.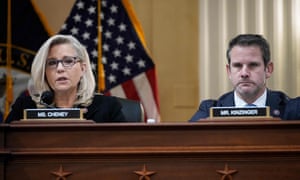 Updated

13:30
Congressional staff have declared their efforts to unionize offices and committees in Congress.
In a statement on Friday, the Congressional Workers Union said a survey distributed by the Congressional Progressive Staff Association found that 91% of staff surveyed "want more protections to give them a voice at work".
The new union plans come as a result of a volunteer group of congressional staff organizing for more than a year.
"Now, in the midst of this momentous resurgence of the labor movement, and on the heels of Speaker Nancy Pelosi's commitment to 'fully support' any organizing efforts by Congressional staff, it is time for Democrats to lead by example," the statement said.
On Thursday, Pelosi's office expressed her support for the union, with spokesperson Drew Hammill saying: "Like all Americans, our tireless Congressional staff have the right to organize their workplace and join together in a union. If and when staffers choose to exercise their right, they would have Speaker Pelosi's full support."
Representative Andy Levin, a Democrat from Michigan, also threw his weight behind the union drive. "At the request of the new union, next week we will take legislative action to afford congressional staff the freedom to form a union – a fundamental right for all workers," he tweeted.