On Sunday, India asked the family members of Embassy officials in Ukraine — as well as students and citizens whose stay is not vital — to leave the eastern European nation amid its rising tensions with Russia. The directions to students and other nationals came from the Indian Embassy in Kyiy on Sunday. This is its second advisory in a week and has a stronger tone than the previous one — citing "high levels" of tensions and uncertainties.
Russia on Sunday rescinded earlier pledges to pull tens of thousands of its troops back from Ukraine's northern border, a move that US leaders said put Russia another step closer to launching what they said was the planned invasion of Ukraine.
Russia's action extends what it said were military exercises, originally set to end Sunday, that brought an estimated 30,000 Russian forces to Belarus, Ukraine's neighbour to the north. They are among at least 150,000 Russian troops now deployed outside Ukraine's borders, along with tanks, warplanes, artillery and other war materiel. The continued deployment of the Russian forces in Belarus raised concern that they could be used to sweep down on the Ukrainian capital, Kyiv, a city of about 3 million people less than a three-hour drive away.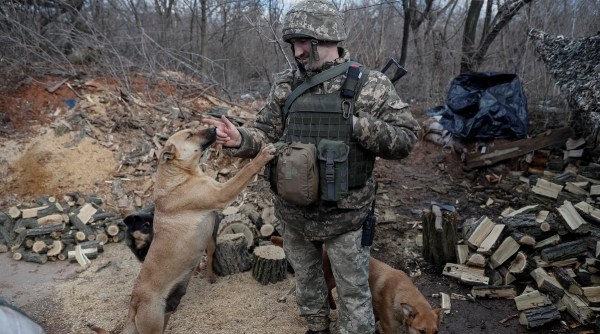 A Ukrainian service member touches a dog on the front line near the city of Novoluhanske in the Donetsk region, Ukraine. (Reuters)
Meanwhile, the Biden administration refused to unleash sanctions on Russia ahead of a widely anticipated Russian invasion of Ukraine despite mounting criticism from Kyiv and domestic rivals.
Sanctioning Vladimir Putin's government before he invades would just guarantee such a crisis happens immediately, US officials argue. "The purpose of the sanctions in the first instance is to try to deter Russia from going to war. As soon as you trigger them that deterrence is gone," Secretary of State Antony Blinken told CNN's "State of the Union" show.