16:39
Report: Biden expected to ask for more than $770bn in 2023 defense budget
16:17
Jurors in Sarah Palin's New York Times case received notification of judge's dismissal during deliberations
15:45
Texas sues Biden administration over mask mandate
Updated

14:28
Facebook promotion for former UK deputy PM Nick Clegg
Meta chief executive Mark Zuckerberg has promoted the company's top policy executive, Nick Clegg, to president of global affairs, Zuckerberg said in a post on Wednesday, reducing his own role in the company's policy decisions.
Clegg, who previously served as Britain's deputy prime minister, had joined Facebook as vice‑president for global affairs and communications in 2018.
He was instrumental in the establishment of the oversight board – a regulatory group that was formed in 2020 to make decisions independent of Facebook's corporate leadership.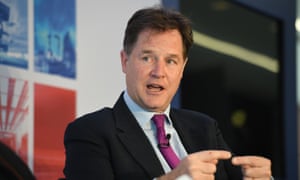 Clegg's promotion is the latest public shift for the company, which has made a number of substantial changes in recent months as it refocuses its efforts on building out the metaverse – a digital world where users can meet in virtual reality.
Clegg joined the company in 2018, when Facebook was facing intense pressure over its policies during the 2016 US presidential election. . He also helped the company weather controversy around Facebook's role in the persecution of the Rohingya in Myanmar, and most recently the revelations made by whistleblower Frances Haugen.
Updated

13:46
Psaki condemns 'totally irresponsible' Senate Republicans
Updated