Hours after Pakistan's new Prime Minister Shehbaz Sharif asked him to come forward and address "the Kashmir issue" so that the two countries could concentrate on tackling poverty and unemployment, Prime Minister Narendra Modi congratulated him on his election and said India desired peace and stability in a region free of terrorism.
🗞️ Subscribe Now: Get Express Premium to access the best Election reporting and analysis 🗞️
"Congratulations to H. E. Mian Muhammad Shehbaz Sharif on his election as the Prime Minister of Pakistan. India desires peace and stability in a region free of terror, so that we can focus on our development challenges and ensure the well-being and prosperity of our people," Modi said in a Twitter post.
On Monday, the Pakistan parliament elected Shehbaz Sharif as the 23rd Prime Minister of the country.
A PTI report from Islamabad said Shehbaz, 70, was the only candidate left in the race after former Foreign Minister Shah Mahmood Qureshi announced that the Pakistan Tehreek-e-Insaf party would boycott the voting and staged a walkout.
Sharif was sworn-in by Senate chairman Sadiq Sanjrani after President Arif Alvi went on "sick leave".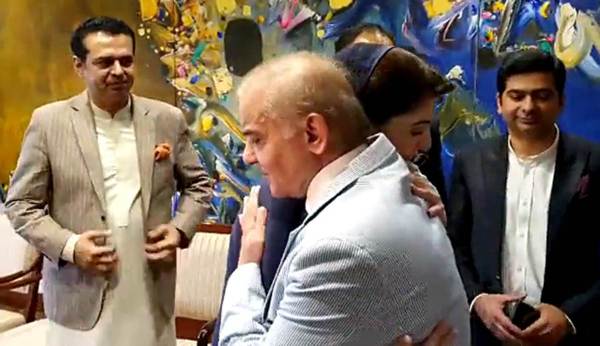 New Pakistan Prime Minister Shehbaz Sharif with niece Maryam Nawaz Sharif in Islamabad on Monday. (ANI)
"Sharif has secured 174 votes and has been declared as prime minister of Islamic Republic of Pakistan," according to the formal result announced by Speaker Ayaz Sadiq. In the House of 342, the winning candidate should get the support of at least 172 lawmakers.
The younger brother of former three-time prime minister Nawaz Sharif, Shehbaz told the House: "We want good ties with India but durable peace is not possible until the Kashmir dispute is resolved." He attacked Khan for not making "serious and diplomatic efforts" when India abrogated Article 370 in August 2019.
Modi's congratulatory tweet is similar to his first letter to Imran Khan in August 2018 when the latter became Prime Minister of Pakistan.
At that time as well, while congratulating Khan on his assumption of charge, Modi had expressed the hope that the smooth transition of government in Pakistan would strengthen and cement people's belief in democracy. He recalled their telephone conversation in which they spoke of their shared vision to bring peace, security and prosperity in the Indian subcontinent in order to make it "free of terror and violence", and to focus on development. They had spoken in July 2018, days after it became clear that Khan was poised to become the new PM.
With Shehbaz Sharif now becoming PM, New Delhi is watching the developments in Islamabad, Rawalpindi and Lahore with "cautious optimism" for any headway in bilateral ties. Top sources said the change in regime may offer a "diplomatic opening". According to sources in the strategic establishment, the implications may be far-reaching.
Emerging from the shadow of his elder brother Nawaz Sharif, Shehbaz is known to be close to the Pakistan Army — he was chief minister of Pakistan's Punjab province.
The Sharif family has always been an advocate of better ties with India. Shehbaz's last India visit was in December 2013 when he met then Prime Minister Manmohan Singh and Commerce Minister Anand Sharma, visited Metro stations and solid waste management plants in Delhi, and a power plant in Haryana. He also visited Punjab and held meetings with then Chief Minister Parkash Singh Badal and Deputy Chief Minister Sukhbir Singh Badal, where he worked on a roadmap for cooperation between the two Punjabs.
"Our records suggest that he was very focused and result-oriented in his meetings, and really wanted to build on the ties between the two countries," said a source who was part of some of the meetings in 2013.
While interacting with journalists then, Shehbaz had said that "war is not an option", and had pitched for the resumption of "peaceful dialogue" on all issues including "Sir Creek, Siachen, water and Kashmir".
On his meeting with Singh, he had said: "I told him that both trade and commerce have to be combined with strategic issues. Only the exchange of cultural troupes is not enough. We have to resolve problems through talks… not an option to brush problems under the carpet… have to address them (problems)."
Officials pointed out that the core concerns of the two countries remain the same over the last decade, and Shehbaz is well placed to take forward the bilateral conversation.
Better trade ties with India could provide the much-needed boost to Pakistan's economy. Known to be focussed on infrastructure projects — he is credited for many roads, bridges, flyovers and transport projects in Pakistan's Punjab province — Shehbaz is keen to deliver before the next elections in 2023.
There are some green shoots in the otherwise fractious India-Pakistan ties at present. First, the ceasefire, as agreed upon in February last year, has largely been adhered to. This builds confidence that the understanding at the higher political-military level as well as the ground level has been observed and they are broadly in sync. Second, the situation in Afghanistan, and India's humanitarian help — transportation of wheat via Pakistan — has shown that there is scope for cooperation for "limited purposes", sources said.